---
Once installed it can monitor a wider range of phone user activity than any other spy phone software available. Chosen by customers who do not want to leave anything to chance. Now with keyboard input logging! All parcels are discretely packaged and addressed with no mention of Spy Equipment UK or Spy branding. All parcels must be signed for and can't be left at a property without a signature. Because it is so widely used, making a spy phone software to monitor Smartphones using the Android platform was an obvious choice.
After installation on the handset, the phones standard functionality remains totally unaffected by the spy software programme. It runs unsighted and works away in the background, sending out an incredible array of information to a secure web-based monitoring panel.
10 Best Mobile Spy Apps for 12222 [UPDATED]!
Android Ultra Spy Phone Software.
an app to spy on another phone;
iphone ios sms spy.
can you read sent text messages online?
spy smartphone monitoring software.
The Ultra Android spy phone software is an ideal solution for keeping an eye your children or an elderly relative for their protection and safety. Employers may have a need to monitor employees suspected of using their company phone for illegal or inappropriate activity. After purchasing the Android spy software package, the customer will receive instructions and a download link to their email address within 24 hours except weekends and Bank Holidays. The download link is then inputted into the browser for the Android phone and the software can be downloaded and installed in minutes, after which a unique ID code is shown on the screen of the phone.
This information has to be noted and subsequently emailed to Spy Equipment UK and then the software licence can be authorised.
After the licence has been confirmed, the customer will have unlimited access to their secure login to the panel 24 hours per day for the licence period. The software is designed to monitor one Android phone handset.
A purchase of this software entitles you to monitor unlimited data on the installed handset for a period of 3, 6 or 12 months from the installation date, dependant upon your chosen period. If you wish to continue using the software after the initial 3, 6 or 12 month period, then this will require an additional licence purchase. It is, of course, possible to extend the licence for a longer period than your initial purchase option, so for example, if you originally chose a 3-month licence and wanted to extend this for a further 6 or 12 months, then it is simply a matter of paying for the upgrade.
Spy Phone App for:
The Ultra software has the most comprehensive range of monitoring features available. Most functions automatically report back captured data and information to the Web monitoring panel and each customer is provided with their own specific secure login to access their gathered information. Get recorded phone calls made or received by the monitored phone, get copies of SMS messages including text content , log all touch-screen keyboard input, Internet browsing history native phone browser , Pictures Captures, screenshots, IM pictures , get GPS locations of where the phone is every 20 minutes, see a list of application on the phone, view contacts as they are updated.
The web panel also shows the WiFi, mobile data connection, Bluetooth and battery charge. The very same remote control commands cannot only be controlled by the web-panel, but also by sending specially coded text messages. The SMS commands do require an actual text message to be sent to the spy phone, although a series of spaces in the message instructs the Ultra software to control the requested feature.
Spy phone software uk?
Uk mobile phone spy software;
spy application for nokia X.
Remote Spy Apps Get The Job Done.
spy phone app login;
gps a cell phone location.
This information is fed through to the Web panel in real-time. On top of this for a rooted phone Gmail, Outlook and Yahoo emails can also be captured. This will only work for the main email account for each type, also the actual email itself will only be available and no attachments can be captured. Although the phone being monitored may not always have Internet access, this will not mean that the software cannot catalogue the phone activity.
The software will still store it covertly on the phones internal memory and then, when next connected to the Internet, upload this data to the Web panel.
Android Ultra Spy Phone Software
After the captured information has been shared with the panel it will be automatically deleted from the phone memory storage. The spy software application is totally hidden. It does not appear as an icon on the phone screen, in the systems apps or as a running app, so it really is invisible. In addition to its invisibility, it is almost impossible to wipe the software from the phone even if the phone user undertakes a security wipe! You should be in no doubt that this has to be the ultimate spy phone software available. No other spy phone app is so discrete, so swift to install and has so many features.
The Web monitoring panel really is well laid and simple to use with information catalogued in such an intuitive way that even a new user will be able to find their way around in a matter of minutes. Information on the panel can be very easily downloaded in commonly used formats, with no additional software is required. No, the Ultra Spy Phone Software itself is the one that is being monitored and feeds its activity information out discreetly.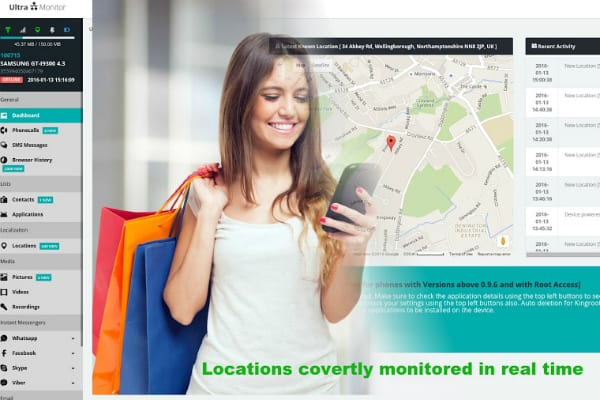 The phone being monitored does not need a SIM for the software to function, only an Internet connection to feed the data out to the web panel. Changing the SIM in the phone is not a problem. A mobile spying app should have this as a crucial feature since you will be interested to know the whereabouts of your children or even employees.
Recommended action enter the write standby command on the active unit uk mobile phone spy software synchronize system. The Ultra Android spy phone software is the most comprehensive software available for monitoring smartphone activity including WhatsApp & messenger.
These are the most basic features to look for in a mobile spying app as it is these conversations that can let you get to the bottom of some issue. Plus, some advance apps let you intercept calls and surroundings of the phones too. If you can get these features at a good price, then it is totally worth it. Since it is a spying software, it must be capable of working in discrete mode. You must be able to install it on the target device and be sure it will monitor things for you without being visible on the phone. A cheap app will give you cheap features and a pricey app will give you quality features.
But that does not mean you should buy a spying app that is costly.
Android Ultra Spy Phone Software | Spy Equipment UK
If the app is actually offering great features and it is justifying the price, you can readily go for it. Since there is a huge variety of mobile spy apps these days, you will, of course, have a lot of companies to choose from. Before you purchase the app from a particular company, it is recommended to do your homework to be sure you have made the right choice.
Here are some tips that will help you pick the right company:. The product itself may be good but if the customer support is not good, then you may never be able to make the most of the product itself. If the website offers live chat support, test it. Ask a few questions related to the mobile spy app and see if they are handled efficiently. A decent company will always have a comprehensive website. Along with having details about the product, its features, tutorials, FAQs, guides, etc.
Reading these pages will clear your head and help you decide whether to make a purchase or not. Because you never really know how the product would turn out to be unless you have already used it. The challenge with the online cell phone spying industry is that not many companies offer a free trial.
Spy Software Reviews
Because that free trial is most of the times enough for many people. Keeping that contingency into consideration, many mobile spy app companies rather offer a fully-functional online demo in place for the free trial. Xnspy also has an impressive live demo which you could give a try before making a final purchase decision. The location of the company also tells about its reliability and quality of services. We hope that this guide came as an answer to most of your questions related to the 10 best mobile spy apps.
The purpose of creating this review was to make your decision easier and choose the right mobile spy app. Xnspy is compatible with most phones and tablets. Android devices with OS 4. Before installing the app on the phone, make sure that it is compatible with the phone. The user of the device cannot view the app in the App Listing on the device. Hence, you can monitor the activity on the device discreetly.
Xnspy monitors the live location of the device on Android. If the phone is connected to the internet, you will receive regular updates on your account. Xnspy provides details on previous as well as the current location. It includes the address, longitudinal, and latitudinal coordinates. Users can also mark locations as safe or unsafe.
Moreover, if you wish to use the app for monitoring children or employees, the device must belong to you or the company, respectively. For children below the age of 18, the app is legal to be used without consent in most US states.